Exceptional leadership in a pandemic gets its due recognition
With their entrepreneurial spirit, agility and sharp acumen, these business leaders are making a profound difference in their organisations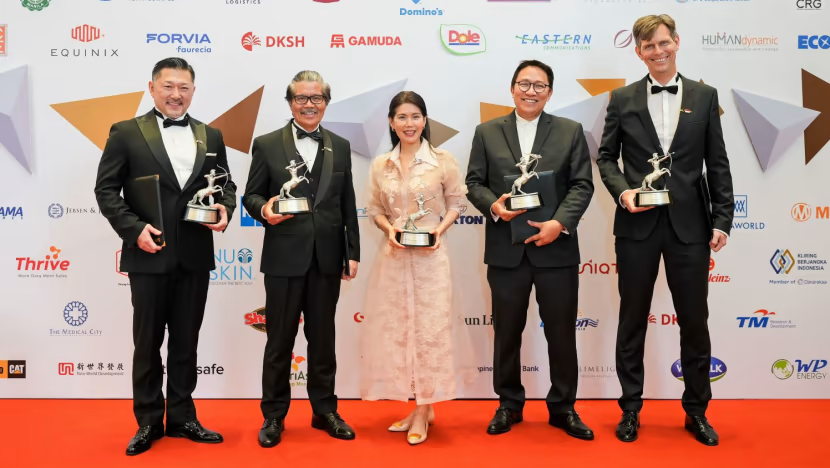 The pandemic has shone a spotlight on the importance of good, agile leadership in guiding companies through a crisis. Among other traits, exceptional business leaders are capable of motivating their employees, aiding others in believing in a vision, prioritising sustainability and spearheading innovation.
According to research by consultancy McKinsey, job satisfaction is the second-most important determinant, after mental health, of an employee's satisfaction with life, which, in turn, influences their impact on company performance. One of the key findings of the report was that leadership played a crucial role in keeping employees happy and engaged. The report added that during COVID-19, tailoring work routines to individuals' needs and maintaining social connections made a big difference in workers' productivity and well-being.
At the Asia Corporate Excellence and Sustainability Awards (ACES) 2022, the MORS Group recognised six business leaders who have demonstrated sound leadership. These individuals consistently display a combination of business acumen, entrepreneurial excellence, professionalism and astuteness.
FROM MOBILE OPERATOR TO DIGITAL CURRENCY PROVIDER
Mr Tatsuya Hamada, chairman of the board of directors at Mobicom Corporation, won the Outstanding Leaders in Asia award.
Under his watch, Mobicom has been transformed from a pure-play mobile service operator to one that offers digital finance and Internet TV on a mobile platform. Currently the largest mobile phone operator in Mongolia, Mobicom is committed to significant investments in Internet of Things technology to develop and enhance services like mobile Internet as well as smart home and office solutions.
AN EXPANDED REGIONAL PRESENCE
Another recipient of the 'Outstanding Leaders in Asia' award was Mr Per Magnusson, Group CEO of the Jebsen & Jessen Group, a manufacturing, engineering and distribution conglomerate. He was commended for leveraging his strategic leadership capabilities and diverse intracultural experience to expand the group's presence across Southeast Asia and China.
One of its subsidiaries, Jebsen & Jessen Technology – Turf & Irrigation, recently announced a 10-year agreement with the new Stonehill golf course in Bangkok. This builds on a 2018 deal that covered equipment and irrigation solutions and is just one example of the group's diversified business interests, which comprises five business units: Cable technology, ingredients, life sciences, packaging and technology.
ACCELERATING DIGITAL TRANSFORMATION
As one of ACES' Eminent Leaders in Asia, Mr Amit Midha, president of Dell Technologies is leading the development of technology that drives human progress for a sustainable, diverse and inclusive future. The company has two bodies that oversee environmental, social and governance (ESG) issues. Consisting of members from teams across Dell, these efforts help to create an integrated approach to ESG.
Mr Midha believes that smart technologies can help alter carbon-intensive energy consumption patterns. For instance, 5G and edge computing can enable vehicle sharing and decrease the amount of time vehicles spend idling, reducing carbon emissions.
GIVING BACK TO THE ENVIRONMENT AND COMMUNITIES
Also named an Eminent Leader in Asia was Ms Caroline Tanchay, president and CEO of Citinickel Mines and Development Corporation, one of the pioneer mining companies in the Philippines.
Under her leadership, the company practises responsible mining that reduces environmental damage. Its sustainability initiatives include reforestation, rehabilitation and temporary revegetation.
PARTNERING WITH PATIENTS
Mr Eugenio Jose F Ramos, president and CEO of healthcare group The Medical City (TMC) Enterprise, was named among Asia's Most Inspiring Executives.
Mr Ramos' wide-ranging reforms have helped the company achieve unprecedented double-digit growth. These reforms have also enabled patients to play an active role in their health decisions and accelerated cultural and digital transformation initiatives that widened the company's impact in the Philippines.
For instance, the organisation's TMC [Care] Anytime, Anywhere is a holistic system of patient care that incorporates homecare, telemedicine and ambulatory care.
RESHAPING THE LNG DISTRIBUTION LANDSCAPE
Another one of Asia's Most Inspiring Executives was Mr Mohammad Medan of Bintulu Port Holdings Berhad (BPHB) – a publicly listed holding company consisting of three fully-owned subsidiaries. The company operates East Malaysia's largest container port and is the nation's sole liquefied natural gas (LNG) export gateway and one of the largest LNG export terminals in the world.
In 2021, Bintulu Port reported RM728.39 million (S$222 million) in operating revenue, 2.98 per cent higher than 2020. Under Mr Mohammad's transformation plan, the corporation has penetrated the global market and helped change the LNG landscape with a greener, smarter and more sustainable port.
~ Feature originally published by Channel News Asia